The white truffle from Piedmont, the diamond of the kitchen, returns this November to the Enoteca Paco Pérez restaurant. With the arrival of Autumn, Chef Paco Pérez presents his new white truffle tasting menu for a limited time. It is a perfect occasion to get to know or enjoy again this unique ingredient that is the white truffle.
WHITE TRUFFLE MENU
~ Available for dinner from October 26th 2022 to November 19th 2022, from Wednesday to Saturday ~
295€ per person
Boletus truffle tartlet
·
Autumn water
·
Sweet Potato truffle
·
Minestrone Soup, truffle
·
Mushrooms velouté, shrimps, truffle
·
Sea cucumber in a beurre blanc, garum, truffle
·
Ou de Reig and truffle creamy rice
·
Smoked sea bass, autumn sprouts, truffle
·
Milk and truffle rice
·
Petit Fours
Menu exclusively available for people older than 7 years old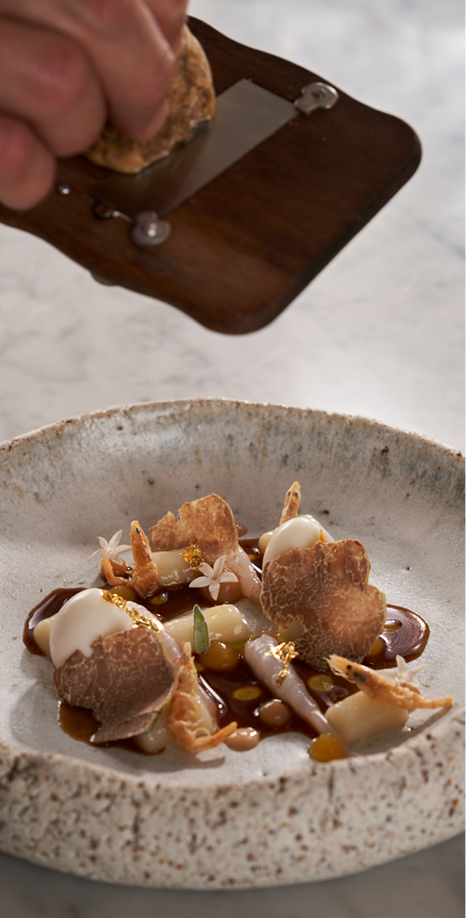 Nuances in aroma and fragrance
The outstanding taste and fragrance of the white truffle comes from the type of soil (sand soil, limestone soil), as well as from the symbiotic plants which allow their growth.
For many lovers of Mediterranean haute cuisine, the white truffle season is almost the longest awaited time of the year. The reason lies in the unmistakable aroma of this tuber, impossible to imitate and unique for each region of origin.
The harvest: a manual process
One reason for the white truffle to be a very rare and demanded ingredient among haute cuisine enthusiast can also be found in the limits of each year's harvest. Being the only tuber that can't be cultivated and only grows naturally, the collection of white truffle is a task for experts.
"Tartufo Bianco" tasting menu at Enoteca Paco Pérez
At Enoteca restaurant in Barcelona, excelled with two Michelin stars, chef Paco Pérez receives the white truffle from a selected group of experienced searchers to elaborate his limited-edition "Tartufo Bianco" tasting menu. For the selection of the best ingredients, the truffle's fragrance, as well as their firm and resistant texture are the most important indicators. Then, this experience and the prime quality of each product are the secrets for an extraordinary sensorial experience.